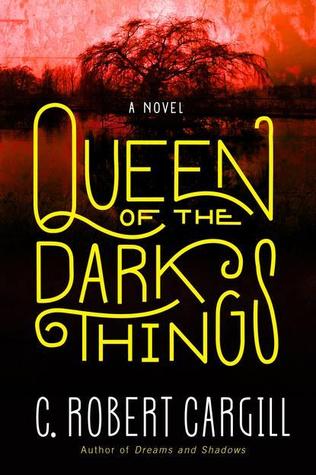 With
Queen of the Dark Things
, C. Robert Cargill returns to the dark, consequence-filled world he created in
Dreams and Shadows
. This time around, his modern fairytale comes wrapped in the mythology of the Australian aboriginal people, creating a more philosophical and, if possible, even darker story than his previous book as the themes of life, death, and the afterlife are explored.
I was actually rather surprised when I saw this book, as I'd read the first one with the understanding that it was a stand-alone novel. So with my surprise came the tiniest bit of dread. After all, Cargill's debut,
Dreams & Shadows
, was so dark and twisted and unique--would any kind of follow-up be able to match the level of creativity he'd created, let alone surpass it? Well, in my highly personal opinion, I feel I can say: Yes, yes it can.
Our story begins on a island somewhere in the Indian Sea in the year 1629, where the remnants of the shipwrecked
Batavia
have created a gallows for the small company of sailors, led by one Jeronimus Cornelisz, who mutinied. Handless and lifeless, these mutineers return as ghosts to seek vengeance on their fellow conspirators, the ones who survived the gallows by turning on their mates. No matter how long it takes. From there we return to the present, to Austin, TX and to Colby. It's been a few months since the showdown at the end of
Dreams & Shadows
and he's still mourning the loss of pretty much everything, especially his best friend, Ewan. This grief takes the form of severe self-recrimination and self-destruction. But Colby won't be allowed to spiral down: his actions have made him famous (or infamous, depending on who you ask) and brought a lot of people out of the woodwork. Including some very dangerous enemies looking to settle a score. Into this dark and treacherous world is thrown Kaycee, a young girl from Australia, who is the yang to Colby's yin and has some very special abilities of her own. They're drawn together, and with the aid of the djinn Yashar, the Clever Man Mandu, Gossamer the talking golden retriever, and others--not all of them willing allies--attempt to hold back the evil threatening to spill out of the land of dreams and into our world.
From demons and djinn, to ghosts and fairies and the personification of Austin in the form of a woman, Cargill somehow manages to throw together disparate mythologies and cultures into a story that is cinematic in scope (no surprise, really, considering he's a screenwriter) yet still intimate enough to make the reader involved in the characters' lives and emotional journey. As with his previous book, Cargill also intersperses chapters from scholarly works, in this case works by a "Dr. Thaddeus Ray, Ph.D." concerning the history and significance of the Aboriginal concept of Dreamwalking and the role of the Clever Men who straddle the line between our world and the Dreamtime, along with other "references" which tie into and deepen both the chapters that follow these side excursions as well as the story as a whole. The intertwining of these "scholastic" works grounds the story and adds an element of realism, setting Cargill's work apart from most Urban Fantasy. And I say that as a lover of UF. But whereas most UF is set in our world, is meant to
be
our world with the same set of rules just slightly tweaked by the addition of vampires, werewolves, elves, whathaveyou, you understand that none of it could ever happen. Cargill's storytelling, however, leaves a small nugget of doubt in your mind telling you that, should you turn the wrong corner at just the right time, in the right city, you might just run into something straight out of your worst nightmare.
Read from May 10-June 1, 2014
Reviewed for the Amazon Vine Program May 17, 2015